Description
FRONT AND REAR SEAT COVERS (5 SEAT)
A heavy duty thick neoprene all over front pair with an open top and with separate headrest covers provided
and it's a one piece seat preventing rubbish entering the seat and keeping it more stable
a buckle clip system for easy installation and removal for washing,
great for all tradesman and fisherman basically for all outdoor people
Our backing is also made neoprene wetsuit with 2 storage pockets ( not a thin polyester )
neoprene skirting for wear and tear as you get in and out,
the rear seat will be tailored australian made off course!!!
the backing on the rear seat we use a heavy duty spandex,nice and thick foam lined 5mm to keep you cool
and all splits and folds are perfectly tailored and headrest covers included
REAR ARMREST NOT COVERED
isofix attachment points for child seats & rear drink holder provisions
pet friendly , you are not buying a budget product
theses products come with a 2 year manufacturer warranty !!
available in other fabrics & colours
individual rows can be purchased
???? FREE DELIVERY !!! and estimated delivery time 4-9 days,
some regional areas & international slightly longer
D&D auto is Australian and family owned, trading for over 35 years 0418415882
we also have stalls Fairfield markets every Saturdays & previously at Flemington markets
THIS IS A GENERAL FITTING INSTRUCTIONS
2 FRONT BUCKLES SHOULD MEET REAR CLIPS AND THE SIDE BUCKLE SHOULD WRAP AROUND THE BACK OF THE SEAT FIRST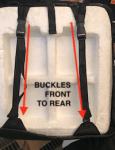 FRONT MEETS REAR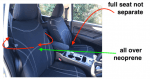 RENAULT KOLEOS 17 ON

IMAGES ARE A SAMPLE GUIDE ONLY & MAY NOT BE ACTUAL SEATING CONFIGURATION